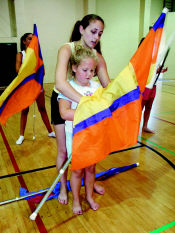 Lisa Adams/T.O. Acorn Color Guard Instructor Becky Fleishman gives 9-year-old, Megan Bennett some tips on flag twirling.
Saber rattling is not just a military tradition.
The Allusion Winter Guard held auditions recently at the Thousand Oaks Community Center and welcomed new members to the Allusion Winter Guard Cadets. Allusion Winter Guard is similar to a color guard team, which performs at parades and events with flags, wooden "rifles" and sabers. But unlike color guard, the Winter Guard performs its act mainly on basketball courts.
Older members range from 14-22 years of age, but the new Allusion Winter Guard Cadets can be 8-14.
According to founder and guard manager Harold Arsenault, applicants to the Winter Guard needn't have a great deal of coordination upon starting out. In fact, just about anybody who applies is probably going to get in, Arsenault said. The audition is just to prepare students for the reality of high school auditions.
"So by then, they'll have it all under control," said Arsenault.
There is, however, much dance involved in the performances.
The Allusion Winter Guard recently completed a highly successful second year. The group brought home a bronze medal for the Southern California Championships and also attended its first World Championships.
Arsenault is a sixth year "guard dad." He was a member of the Thousand Oaks High School Band and Color Guard Boosters for four years. He is completing his second year as guard manager.
Allusion began as part of a class taught by Arsenault and his associates through the Conejo Valley Recreation and Park District. From there, a team formed.
Allusion volunteers Joe Paul, Matt Mize and Tim Wyckoff are among those who donate their time and expertise to the training.
"We're all like kids. We have fun," said Arsenault. New classes are still available. The first one of the school year is scheduled for 6:30 p.m. Friday, Sept. 19 at the CRPD Community Center on Hendrix St.
For information, contact Arsenault at 805-494-8500, or email allusionwg@yahoo.com. Alos visit www.allusion.20m.com.
Even though the initial auditions are over, there are still opportunities to get involved, the organizers say.
Auditions for the older group will be held for the 2004 Allusion Winter Guard will be held on Sunday, Aug. 31, 2003 at the Thousand Oaks Community Center, 2525 Moorpark Road in Thousand Oaks. Registration is at 8:30 a.m., and auditions begin at 9 a.m. A registration fee is required, which includes lunch and snacks.
The organization was founded in l977 to accomodate the growing interst in winter color guard activity. Efforts resulted in an international organization with a network of regional contests in the U.S., Canada and Europe, plus an annual International Championship in April.
According to Winter Guard International, winter guard programs can be found in the United States, Canada, Holland, Japan, England, Korea, Germany, Ireland and South Africa.